Founded by Baha'ad-Din Naqshbandi, the Naqshbandiyya order became the most influential sufi order in today's Southern Xinjiang by the 15th century. Khoja Afaq was the saint most responsible for establishing the Naqshbandiyya among Chinese speaking Hui Muslims in Northwest China's Gansu, Qinghai and Ningxia provinces. Khoja Afaq was believed to have traveled to Xining, Lintao and Hezhou (today's Linxia) and preached to Chinese speaking Hui, Salar and even some Tibetans. He had two great Hui students, one was Ma Laichi and the other was Ma Mingxin, both of them later went to central Asia and performed Hajj and studied Naqshbandi under great Sufi masters in Central Asia and Middle East. Upon their return to China, two most important Naqshbandi orders were established in China: Ma Laichi founded Khufiyya Menhuan order and Ma Mingxin founded Jahriyya Menhuan order among the Chinese speaking Muslim Hui people. These two are the largest sufi orders in China: 10% of Chinese speaking Muslim Hui people are Jahriyya followers and 7.2% of Chinese speaking Muslim Hui people are Khufiyya followers.

Ma Laichi founded Khufiyya Menhuan after his return to China from Hajj. The Khuffiya Menhuan he established was named Huasi Menhua which was the core of Khufiyya movement in Chinese Islam. The feature of Huasi Menhuan is its adherents' emphasis on silent Dhikr (invocation of God's name), stronger participation in the society, veneration of saints and seeking inspiration at their tombs (Gongbei). Huasi Menhuan requires to recite Dhikr (Zikr) silently in the morning and evening, do voluntary prayers at night. Dhikr is taught to followers in a secret way.

The head of Huasi Menhuan is called Taiye who is regarded as a saint and after he dies, a Gongbei will be built on his tomb. Senior members of Huasi Menhuan is named Laorenjia.

Khufiyya is believed to have 20 branches, scattered in the provinces of Northwest China's Gansu, Qinghai, Ningxia and Southwest China's Yunnan and Sichuan Provinces.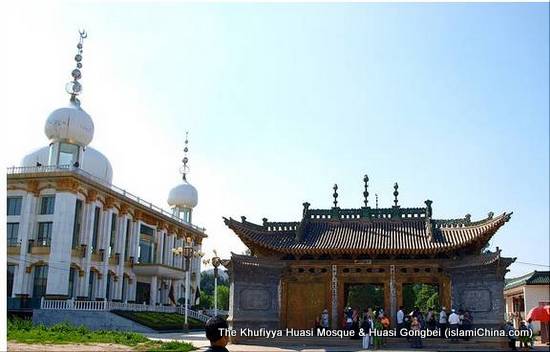 1: Huasi Menhuan
Founder: Ma Laichi
Time of Founding: 5th year of Qing Emperor Qianlong's Reign (1740)
Location of Daotang: Huasi Gongbei in Linxia of Gansu Province
Followers: 150,000
Distribution: Gansu, Qinghai, Ningxia and Xinjiang

2: Bijiachang Menhuan
Founder: Ma Zongsheng
Time of Founding: 13th year of Qing Emperor Kangxi's Reign (1674)
Location of Daotang: Linxia of Gansu Province
Followers: 20,000
Distribution: Gansu, Qinghai, Ningxia.

3: Lintao Menhuan
Founder: Ma Yuhuan
Time of Founding: early years of Emperor Jiaqing's Reign (1760-1820)
Location of Daotang: Wayaotou, Linxia of Gansu Province
Followers: 5,000
Distribution: Wayaotou, Bafang, Kangle of Linxia county, Gansu Province.

4: Mufuti Menhuan
Founder: Ma Shouzhen
Time of Founding: 20th year of Qing Emperor Kangxi's Reign (1682)
Location of Daotang: Kangle of Gansu Province
Followers: 100,000
Distribution: Kangle of Gansu Province, Xining of Qinghai Province

5: Hongmen Menhuan
Founder: Hong Shoulin
Time of Founding: end of Qing Emperor Tongzhi's Reign (1861-1875)
Location of Daotang: Guyuan of Ningxia Hui Autonomous Region
Followers: 20,000
Distribution: Guyuan, Haiyuan and Tongxin of Ningxia Hui Autonomous Region

6: Qingyuntang Menhuan (Liumen Menhuan)
Founder: Abdul Gahas
Time of Founding: Qing Emperor Qianlong's Reign (1835-1799)
Location of Daotang: Xiaoxihu Gongbei, Lianhuachi, Lanzhou
Followers: 1,000
Distribution: Lanzhou of Gansu Province

7: Beizhuang Menhuan
Founder: Ma Baozhen
Time of Founding: 20th year of Qing Emperor Jiaqing's Reign (1816)
Location of Daotang: Beizhuang, Dongxiang County, Gansu Province
Followers: 100,000
Distribution: Gansu, Qinghai, Ningxia, and Xinjiang.

8: Humen Menhuan
Founder: Ma Fuhai
Time of Founding: 15th year of Qing Emperor Qianlong's Reign (1750)
Location of Daotang: Dongxiang and Guanghe of Gansu Province
Followers: 60,000
Distribution: Guanghe and Kangle in Gansu Province

9: Dingmen Menhuan
Founder: Ding Xiang
Time of Founding: Qing Emperor Kangxi's Reign (1796-1820)
Location of Daotang: Hualinshan Gongbei, Lintan of Gansu Province
Followers: over 100 families
Distribution: Linxia, Lanzhou in Gansu Province

10: Famen Menhuan
Founder: Fa Zhen
Time of Founding: Republic of China period (1911-1949)
Location of Daotang: Hualinshan Gongbei, Lintan of Gansu Province
Followers: over 200-300 families
Distribution: Linxia, Lanzhou in Gansu Province

11: Jiangoujing Menhuan
Founder: Khoja Xini
Time of Founding: during Qing Emperor Xianfeng's Reign (1851-1861)
Location of Daotang: Xujiawan Gongbei, Lanzhou
Followers: over 300 families
Distribution: Jingtai County, Lanzhou in Gansu Province